Making the choice to move a senior family member to an assisted aged care facility is one big decision to make. And one that raises a lot of questions.
Is this really the right thing to do?
Is help really needed at this point?
And most importantly…
How well will they take the transition?
Whatever your reasons for deciding to place an elderly loved one in a care residence, it's important that you make the move as easy and as comfortable as possible. Living with certain medical conditions alone can be difficult for aged people. You can just imagine how much stressful living away from home and away from one's family it can be for an older person.
Change will always be challenging. It might take a couple of weeks or months for some people to be able to adjust. Others never get used to it. To ensure that your parent's transition to one of the home cares in your area is easy and as stress-free as possible, your family needs to offer support in every way possible.
A smooth transition
Oftentimes, moving to an assisted living centre can be quite unpleasant. It can be overwhelming and intimidating. This is why it's important that your family ensures the experience will be as smooth as possible for the elderly person.
Address privacy concerns.
One of the biggest concerns a lot of seniors have when moving to an aged care facility is privacy. It can be quite uncomfortable to live in a place with complete strangers.
Explain to your senior relative that their privacy won't be affected much. They'll have their own room. There will be lots of places they can go to if they want to be alone. Plus, loved ones are free to visit, depending on when the elderly individual wants them to.
You can also have your ageing parent talk with facility staff to help ease their mind.
It's normal for family members to feel guilty about placing their ageing loved ones in respite care. But this shouldn't be the case. Sometimes, this decision is ultimately going to be what's best for everyone.
If family members are no longer capable of looking after their elderly for some reason, it's best to place them in a facility where they will be taken care of by professionals. So, this move will benefit the older people in the long run.
Don't visit often during the first few months.
Allow your elderly parent or relative enough time to get to know their peers by not visiting them often. This will help them become more at ease with those around them.
But if your mother or father calls you often, doesn't mingle with the others, doesn't eat, and showing other signs of separation anxiety, give them a visit at the aged care residence to let them know they are not forgotten.
There will always be setbacks.
Setbacks are expected. Some parents will call their children to tell them that they're lonely and that they miss you. In a worst-case scenario, they'll tell you they want to go home and would rather be living on their own.
These moments can be nerve-wracking. They can be heartbreaking, to say the least. But these, too, shall pass. Understand that it takes time for them to get used to their new home. Just give the assurance that they are better off at the home cares facility.
Surround them with familiar things.
Having them take a few personal belongings when they move to respite care is also very important. This is to make sure they feel right at home. But forget about their four-poster bed or imported console table. A few picture frames of loved ones and special moments, photo albums, blankets, and pillows are a must. You can also pack their favourite tea set.
Transitions will always be emotional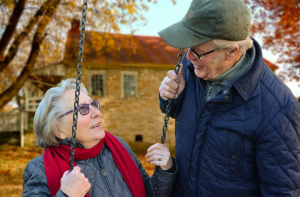 Moving will always be hard. A person's familiarity with a particular place can make any move emotional. But by giving them all the support they need, your elderly loved ones will be able to embrace the changes in no time.
One way to ensure that your family member will be given utmost care and attention is to place them in an aged care residence that has been given the gold standard, like Arcare Aged Care.